I've mentioned previously on my Triumph Sprint GT blog that the problem with so-called "Adventure Bikes" is that the manufacturers make them and then add a few thousand to the cost of the bike and then charge you extra for the luggage that anyone who buys one of these things will want to fit anyway!
Back in 2013, my Sprint GT with all the luggage, heated grips and a comfort gel seat, etc. came in at £8,500 whilst the then Triumph Tiger was £11,000+ and the Ducati Multistrada was £17,000, or twice the price of the Sprint.
Over the past 5½ years, I've only done a little under 10,000 miles on the Sprint, mainly on "Eurothrashes" as we call them. After my last one to France, Spain and Andorra, my right hand index finger was numb for a number of weeks which I put down to a combination of vibration and all my weight being on my wrists.
The latter was largely resolved by fitting bar risers but that then shifted more weight to my bum, so a Corbin seat was sourced from the USA at great expense and it seems pretty good.
I'm still left riding an older bike with good luggage capacity, nice looks and a good engine, but with dated and fairly awkward trip computer and no cruise control which is a real issue given that most of the Death Star's mileage is done in big hits and hundreds of motorway miles to get to the fun roads.  All of these issues are resolved in the latest Adventure Bikes, like the latest BMW R1250GS Adventure – aka the Clitoris ("because every c**t's got one") – and the updated 2019 Triumph Tiger 1200.  Talking of the GS, a mate has finally changed from his venerable Kawasaki Versys to a BMW R1200GS Adventure because the 1200 stock was being shifted before the new model came out and he grabbed a bargain.  Being the Adventure, the BMW comes with a massive 30 litre tank capacity giving it a 350 mile tank range unlike the 'normal' R1200GS and its 20 litre tank (the same size as the Tiger 1200 and indeed my Sprint GT), so a 200+ mile range. Frankly, that's not really an issue for me as I usually like to stop and stretch my legs every 100-150 miles anyway.
As I wrote last summer, when the Death Star was in for a service, I borrowed a Tiger 1200 and reported that:
"I test rode the new Tiger 1200 XRt at the same time. Good power, much more upright riding position and all of the toys, including cruise control and heated rider and passenger seats as well as automagic suspension adjustment. On the minus side, after not too long riding it, I had a numb bum so how it would cope with a Eurothrash, I didn't know."
At the London bike show at the ExCel last weekend, Mrs Me and I sat on a Tiger 1200 XRt and thought it felt OK, but that the luggage space seems much smaller than the Death Star's. I've just checked and the Death Star has 117 litres of luggage space (standard panniers and top box) and the Tiger 1200 accessory Expedition luggage space totals 116 litres, but that top box looks tiny by comparison.
Looking at my Sprint blog, I've been umming and ahhing about a Tiger 1200 (or Tiger 1200 Explorer, as it was known previously) for a couple of years now.  The upright riding position – especially coupled with cruise control – means that my old and decrepit wrists should fare much better, so it's all down to the seat. The best way to find out whether the (heated) seats are any good on longer runs is to try one out properly and Jack Lilley at Romford (or East London Triumph) have kindly offered me one in a couple of weeks for an extended ride. I intend using one of Ride magazine's routes around the South Coast (GPX file) and stay over at a mate's house (he's a great chef…).
The bonus is the bike they may be letting me try is in the white that we like: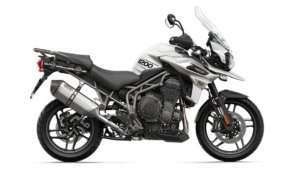 We shall see…