So after the test ride earlier this week, I have been doing more digging. When I dropped it off, Jack Lilley noted that the Adventure luggage was lower so maybe that was an option? Sadly looking at the Triumph accessories online I see that whilst the luggage looks like it would fit better, it would mean a further drop in capacity, from the Expedition's 116L (already -1L from the Sprint GT) to 97L.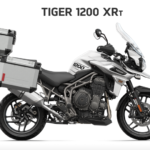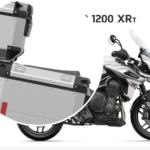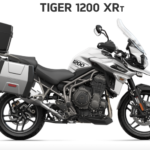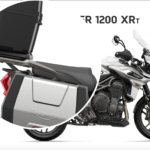 You can see the difference in position of the panniers between the two sets and also the way the top box – which is bizarrely canted forward – encroaches more into the pillion space the Expedition luggage. So to stay Triumph-branded luggage, the Adventure set would be the answer, but you lose nearly 20L of luggage space from the Sprint.
Over on Givi's website, their solution looks much better with the same size (or larger) panniers – they're actually the same ones made for Triumph anyway – and a better rack system that puts the top box up higher, further back and straight up (and again, there's a much larger top box on offer too).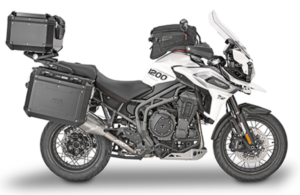 So maybe the answer is to go for the Triumph panniers (to keep the branding side-on), a set of Givi pannier frames to mount them further back and lower as shown in this video and a 'matching' Givi top box in the larger size, plus asking Jack Lilley very nicely to order me another lock barrel so one key fits the lot.