Today was cold and bright: ideal to test the Tiger and its heated seats.
I picked it up from Jack Lilley and headed back home to pick up my wife.  They'd fitted the accessory Expedition panniers and top box as requested (more on this later).
As it's not my bike, I couldn't wire in the Garmin so instead I just mounted a Quadlock mount and my iPhone XS for navigation duties and then we set off for the South Coast and a mix of roads.
211 miles later and we're home – too late to return it today, so it goes back tomorrow as agreed.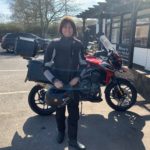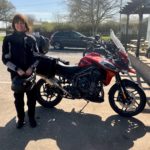 So then, is it a new Tiger ahoy! Well, if it were just me riding it then yes, in a heartbeat. It's fabulous. But as we do like to ride together, i.e. with a pillion, it's a no from me at present? Why?
Pros
Seating position means little weight on the wrists – mine are bad – so all the weight on your bum instead.
Cruise control is excellent. A little savage when you turn it off (either by rolling the throttle forward (best) or braking (worst).
Quickshifter is excellent (although my Sprint's gearbox is silky smooth for clutch-less up changes).
Power is better than the Sprint: it just takes off over 5,000rpm
Heated grips are very good
Heated seat is even better
TFT dash is fabulous
Electrically-operated screen works well on the move, but there's some buffeting
Shaft drive is great
Cons
Expensive
Range was worse than expected, coming in under 180 miles
Clutch bit very late in the lever range
No-hands riding showed a bias towards the left for some reason
Luggage seemed very small, although allegedly only one litre smaller than the Sprint's. You can only get one full-face helmet in the luggage.
Clasps on the luggage were very fiddly.
Panniers were way too high and forward which meant that it was difficult for me to get on an off and even worse for pillions. Also that meant that her legs were uncomfortable and my body forced her legs wide into the panniers.
Top box too high and canted forward into the pillion space, so that was uncomfortable too. There's no reason for it to lean into the pillion seat space and lose space for the rider and pillion together.
Given the luggage is Triumph-branded Givi luggage, it's unforgivable that the Givi frames are lower and further back, exactly what's needed! And why should you pay an extra £152 to get the frames after you've spent £820 on the panniers themselves (unforgivable on a touring bike)?
Here's a video of someone showing the before and after fix for the panniers:
Now, what about that mounting plate for the top box? Another Givi one maybe?
But as it is, the Tiger 1200 is not good enough for me.