So with another girls' weekend in Newquay ahead of Alison and none of my riding mates able to come with me if I went anywhere, I decided I'd head to a part of France I'd never visited before, so I thought I'd head to Le Mont-Saint-Michel.
I looked at the "Ride" magazine guide to France and some of their suggested routes around there and the Atlantic coast and booked a couple of other overnight stops at the end of a couple of routes, sight unseen.
I booked a Eurotunnel crossing with their Flexiplus fare so that I could be as pressure-free as possible on my way back with the longest leg of the tour. After a 4.30am start, I turned up in plenty of time and was waved straight through and onto a train waiting to leave. They even gave me my own personal carriage 🙂
After around 560km I arrived at my hotel, having had to talk my way around one of the barriers stopping entry to the town without a code – which I had, thinking it was the code to the hotel's own carpark (which they don't have). Thanks to Accor's loyalty plan, I'd been able to check in early so I spent the afternoon wandering around the actual Mont-Saint-Michel with its narrow streets and steps. Perfect for pushchairs, apparently…
I decided to walk back to the hotel as the queue for the bus was very long and after dinner came back out to take some more photos as night fell. Here are some photos:
My next stop was at Quimper. I'd found what was supposed to be a four star place to stay without really realising it was a campsite and that there weren't really hotel-type rooms in the accepted sense in the Chateau itself. Worse than that was the 5.00pm check-in. I messaged them to see if I could check in earlier but hadn't heard back before I set off so I enjoyed the lovely roads and stopped at Guingamp for coffee and lunch:
I checked my emails to find I could check in earlier after all, so off I went. I arrived around 4.00pm and checked-in at Reception, rode around to the chateau and couldn't find any way to get in. After 45 minutes, i was lucky enough to find someone who could point me in the right direction, by which point I was a sodden, sweaty lump thanks to the hot day and a full set of leathers.
Still it was nice and 'authentic' and I did enjoy my time there:
Check-out time was 10.00am so after breakfast I set out for St Nazaire on some more lovely roads, going via Quiberon, which meant filtering along through the traffic queues onto the peninsula. A nice stop for moules and a wave to America and I was back on the road.
I arrived at the Hotel Majestic La Baule and wandered off to take some photos and get a coffee and Coke … and a Cuba Libre.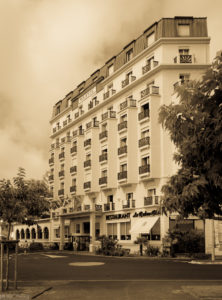 The next morning after a lovely breakfast I waved goodbye and set off for home: a small matter of 770km.
I made it to Calais in plenty of time and despite the "helpful" UK Border Agency making me remove my helmet – even though he could clearly see my face – which slowed things up, I got on to an earlier train back (see my earlier comment about Flexiplus).
Home and a shower and a coffee and I was almost human after 2002km. I do like the Triumph Sprint GT 1050 and I also like my new leathers: Triumph "Taloc" leather jacket and jeans which are heat-reflective with zipped ventilation to help you keep cool and they're also weather-resistant/waterproof supposedly. I only had a couple of light showers so no chance to really test that out, but there are inner liners to let the rain run out if it makes it through the leather.